RARE COMEDY & VARIETY
RARE TV DRAMAS
KIDS SHOWS
TV PROMOS
RARE TV MUSIC
ODDITIES & OLD STANDBYS
NEW VOLUMES!
MAGAZINE COVERS
ORDERING INSTRUCTIONS
LINK TO KINEVIDEO
kinevideo@aol.com : HOME

KineVideo SUMMER SALE!
SEE ORDERING INSTRUCTION PAGE FOR DETAILS

KineVideo SUMMER SALE!
This SUMMER, purchase FIVE or more Online Catalog and/or Limited Edition Volumes and they're only $10.00 each, purchase FIFTEEN or more and they're only $8.00 each and receive FREE POSTAGE as well! ĘThere are lots of new Limited Edition Volumes as well! Please e-mail
kinevideo@aol.com
for details on the Limited Edition Archive. These monthly sales cannot be combined with other offers.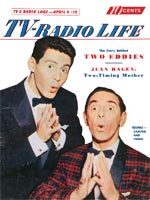 HOW DO I PLACE AN ORDER?

Here's all the information you need!

All of the volumes in the KineVideo : Vintage Television Programming catalog are available on DVD-R disks. I can also offer custom volumes, 'Mix and Match' style of compilations of shows of your choice.
For a list of the current LIMITED EDITION VOLUMES, please e-mail me at kinevideo@aol.com and request a list.

HOW MUCH IS EACH DVD?

Catalog Volumes in DVD-R are $16.00 each, 'Mix and Match' custom volumes of up to 2 hours of material are $18.50 each. Limited Edition Volumes are only $12.50 each.

HOW MUCH IS POSTAGE?

Domestic postage and handling is $2.50 for up to and including five disks sent via First Class Mail. For orders of 6 disks and over, postage is $5.00 for Priority Mail shipping and handling. Please inquire about International Air Mail rates, I ship worldwide.

HOW DO I PAY FOR MY ORDER?

I accept credit card payments through PayPal at www.paypal.com. PayPal payments may be addressed tokinevideo@aol.com. International orders must pay through PayPal. I will be happy to send you a PayPal Money Request if you wish and if you follow the step-by-step instructions , you can complete your purchase in no time.

I also accept personal checks and money orders made out to and mailed to:

Bruce Simon
PO Box 2061
Berkeley, CA 94702-0061

MAY I E-MAIL YOU A LIST OF WHAT I'D LIKE TO ORDER AND HAVE YOU PREPARE A TOTAL FOR ME?

For your convenience, if you'd like me to prepare a total for you, please e-mail me with a list of volumes and/or individual programs you'd like and I'll reply right away with one. I will adjust the total for sale discounts if applicable.

WILL MY DVD-PLAYER PLAY DVD-R DISKS?

All but the earliest generation of DVD players will play DVD-R disks. If you have a question about your particular player, please consult your player's owners guide, it will tell you if your player will play DVD-R disks.

HOW LONG WILL IT TAKE TO RECEIVE MY ORDER?

Depending on how busy things are it can take up to three weeks from when payment is received to receive your order, but in many cases the turnaround time is much less than that.

Please let me know how I can help you or if you have any other questions and I'll look forward to hearing from you!

Best,
Bruce
kinevideo@aol.com



All materials are offered on a 'Collector-to-Collector' basis with no rights given or implied. All materials are for home use only. All materials are believed to be in the public domain. If there is a problem regarding rights with any broadcast in this catalog, please advise and it will be removed. Material is gathered from many sources and visual quality may vary, each tape or disk is checked for recording quality and is returnable only on that basis and for the same volume.

Click here to e-mail kinevideo@aol.com. Site and graphic design by Gwen Harlow.