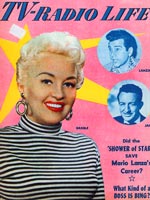 ABC STAGE 67—"Trap of Solid Gold" (1/4/67) starring Cliff Robertson, Dina Merrill. James Broderick, Conrad Nagel and an impossibly young Dustin Hoffman! In COLOR!

CRIME & MYSTERY—Here's four of the popular crime and mystery shows that populated early TV, all with original commercials! MR ADAMS and EVE (1957) Real life married stars Howard Duff and Ida Lupino star as married movie stars who solve mysteries on the side! MR. AND MRS. NORTH (1952) Richard Denning and Barbara Britton star as another mystery solving couple. RACKET SQUAD (1952) Reed Hadley smashes rackets and confidence schemes in this popular series and finally, CRIME SYNDICATED! (1952), a great live CBS crime series!

ELOISE—The legendary live 1956 production starring Evelyn Rudie as the little girl who lived at New York's Plaza Hotel featuring Kay Thompson and a galaxy of stars including Ethel Barrymore, Louis Jourdan, Inger Stevens, Mildred Natwick, Charlie Ruggles, Conrad Hilton and Slapsy Maxie Rosenbloom!

HARBOR COMMAND—Wendell Corey stars as Captain Frank Baxter of the US Coast Guard Harbor Police Command. Four episodes of this 1957 ZIV series.

MARTIN KANE, PRIVATE EYE VOL. 1—This long-lasting live private eye series ran for years with Kane played at various times by William Gargan, Lloyd Nolan, Lee Tracy and Mark Stevens. Some play him wise-aleky, some smooth and suave. You'll see them all over the course of these three volumes! This volumes contains: 'The District Attorney Killer' (3/1/51), 'Face of the Inventor' (3/24/51), 'Peanut Dopey' (12/20/51), 'Trouble on Board' (1953).

MARTIN KANE, PRIVATE EYE VOL. 2—'Comic Strip Killer' (4/23/53), Eyewitness resurfaces' (5/28/53), 'Subway Switch-Paper Bag Robbery' (6/11/53), 'Beauty Queen—Trip to Bermuda' (6/25/53)—guest star Eva Marie Saint.

MARTIN KANE, PRIVATE EYE VOL. 3—'Johnny Silver—Nightclub Murder' (1/31/52), 'Black Pearls' (3/27/52), Shoeshine Murder' (4/8/54), 'Gambling Murder Witness' (5/20/54).

MYSTERY TIME VOL. 1—REXALL PLAYHOUSE presents 'Ten Little Indians' (1/18/59) starring Nina Foch, Barry Jones, Romney Brent and Peter Bathurst. THE CHEVY SUNDAY MYSTERY THEATER—'Thunder of Silence' (6/5/60) starring James Whitmore, John Hoyt, Sandy Kenyon and Jean Carson.

MYSTERY TIME VOL. 2—Two episodes of THE CHEVY SUNDAY MYSTERY THEATER; "I Know What I've Had Done' (7/24/60) starring George Brent and '"The Machine Calls it Murder' (7/2/61) starring Larry Blyden, Everett Sloane, Betsy Von Furstenberg and UNIVAC!

RARE TV DRAMA VOL. 1—CITY HOSPITAL (1952 CBS) a live medical drama, SUSPENSE 2 episodes of this great program 'F.O.B. Vienna' (4/20/53 CBS) with Walter Matthau and Jayne Meadows and 'All Hallow's Eve' (10/28/52 CBS) with Franchot Tone and JUSTICE (1954) 'An Eye for an Eye' with Richard Kiley.

RARE TV DRAMA VOL. 2—ROBERT MONTGOMERY PRESENTS: THE JOHNSON WAX THEATER—'The Tall Dark Man' starring Robin Morgan (4/25/55) and KRAFT TELEVISION THEATER—'No Riders' starring James Daly and Audra Lindley.

RARE TV DRAMA VOL. 3—STUDIO ONE—'The Rival Dummy' (9/19/49 CBS) starring Paul Lukas and Anne Francis, and 'No Tears for Hilda' (1955 CBS) John Forsythe.

RARE TV DRAMA VOL. 4—Two great hours of drama! US STEEL HOUR—From the first ABC season, 'The Rise of Carthage' (1/19/54) starring Paul Douglas and Nina Foch. FORD STARTIME—'The Man' (1/5/60) starring Aud ie Murphy, Thelma Ritter and Michael J. Pollard.

RARE TV DRAMA VOL. 5—Two live dramas starring the late, great Paul Newman; PLAYWRIGHTS '56 'The Battler (9/18/55) and THE U.S. STEEL HOUR 'Bang the Drum Slowly' (9/26/56).

RARE TV DRAMA VOL. 6—CLIMAX!—'Four Hours in White' (2/6/58 CBS) starring Steve McQueen, Ann Rutherford and Dan Duryea.

RARE TV DRAMA VOL. 7—FRONT ROW CENTER—"Tender is the Night' by F. Scott Fitgerald (9/7/56 CBS) starring Mercedes McCambridge and James Daly. JANE WYMAN'S FIRESIDE THEATRE—'Shoot the Moon' (3/20/56) Ozzie Nelson stars in a rare dramatic role.

RARE TV DRAMA VOL. 8—Three taut and tense half-hour live dramas; SUSPENSE—'The Hunted' starring Ward Bond, LIGHTS OUT—'Just What Happened' and DANGER—The Lady on the Rock'.

RARE TV DRAMA VOL. 9—KRAFT TELEVISION THEATRE 'A Night to Remember' (1955) the sinking of the 'Titanic' on live television!

RARE TV DRAMA VOL. 10—FORD STAR JUBILEE—'The Caine Mutiny Court Martial (1955 CBS) starring Lloyd Nolan and Barry Sullivan. Directed by Charles Laughton.

RARE TV DRAMA VOL. 11—Two episodes of WARNER BROTHERS PRESENTS the first important hour long dramatic series filmed exclusively for television. CASABLANCA—'The Return' (1955 ABC), CONFLICT—'Explosion' (1956 ABC).

RARE TV DRAMA VOL. 12—MAGNAVOX THEATRE—'The Three Musketeers' (1950 CBS) the first hour-long dramatic film made for television (filmed at Hal Roach studios), BEST OF BROADWAY—"The Philadelphia Story' (1955 CBS)

RARE TV DRAMA VOL. 13—George 'Superman' Reeves is one of the stars of this KRAFT TELEVISION PLAYHOUSE—'Kelly' (1/10/51). He is very funny and charming in this one hour dramedy!

RARE TV DRAMA VOL. 15—Two more hour-long episodes of the classic WARNER BROTHERS PRESENTS SERIES in their original network format with original commercials, CONFLICT- 'Explosion' with Lyle Bettger and Charles Bronson (1956 ABC), CONFLICT- 'Siege' with Elizabeth Montgomery and Paul Richards.

RARE TV DRAMA VOL. 17—STUDIO ONE A two-part drama that was the inspiration for the later series, 'The Defender'(2/25 - 3/4/57 CBS) starring Ralph Bellamy, William Shatner, Martin Balsam and Steve McQueen.

RARE TV DRAMA VOL. 18—MATINEE THEATRE A grand experiment, for over 2 years MATINEE THEATRE produced a daily hour-long Color production! 'The Suicide Club' (1958) starring Kerwin Mathews and 'The Richest Man in the World' (1957) starring John Abbott. Hosted by John Conte.

RARE TV DRAMA VOL. 19—Here's a gang of great little dramas on a little known 15-minute filmed show, PLAYHOUSE 15, 'The Man with the Black Hair','Double Negative', 'The Dowry', 'The Big Guy' and '"Lapse of Memory'. THE BLACK TOWER (1950) is an early Jerry Fairbanks filmed show similar to Radio's 'Tales of the Mysterious Traveler', this episode is titled 'Fear'!

RARE TV DRAMA VOL. 20—DUPONT SHOW OF THE MONTH (1960 CBS) 'Treasure Island' starring Hugh Griffith and Boris Karloff, DANGER (12/18/51 CBS) 'THE LADY ON THE ROCK' starring Don Hamner & Olive Deering. Directed by Sidney Lumet.

RARE TV DRAMA VOL. 21—THE RICHARD BOONE SHOW (1963) was a highlight of TV's 1963-64 season as star Richard Boone fronts this series of dramatic hours starring a repertory company featuring such veterans as Robert Blake, Lloyd Bochner, Harry Morgan and Guy Stockwell. 'The Mafia Man' and ' Welcome Home, Dan".

RARE TV DRAMA VOL. 22—One of the most famous dramas of Television's Golden Age, Julie Harris and Donald Woods star in James Costigan's 'A Wind from the South'.

RARE TV DRAMA VOL. 23—SERLING AND HEMINGWAY—KRAFT TELEVISION THEATER—'A Long Time till Dawn' written by Rod Serling (11/11/53) starring James Dean. LUX VIDEO THEATER (1/17/57) Ernest Hemingway's 'To Have and Have Not', a Lux adaptation of the film starring Edmond O'Brian, Beverly Garland and Frances Bergen.

RARE TV DRAMA VOL. 24—ALCOA PREMIERE—'Flashing Spikes' (10/4/62) Host Fred Astaire presents this Baseball drama directed by the legendary John Ford and starring James Stewart, Jack Warden, Tige Andrews, Patrick Wayne, Edgar Buchanan, Don Drysdale Vin Scully, Harry Carey, Jr., and more!

RARE TV DRAMA VOL. 25—REVLON SPECIAL—'24 HOURS IN A WOMAN'S LIFE' (3/20/61 CBS) The Danny Thomas Show, The Andy Griffith Show and Hennessey will not be shown tonight as Revlon presents this beautifully produced 90 minute drama starring Ingrid Bergman, Rip Torn, John Williams, Lili Darvas, Jerry Orbach and Cynthia Latham 

RARE TV DRAMA VOL. 26—Julie Harris was truly the First Lady of the American Television Theatre and here she is in a charming comedy staring Miss Harris and Leslie Nielson, GOODYEAR TELEVISION PLAYHOUSE presents 'October Story' (1951) , the story of a young girl from Brooklyn who built her own TV set for $2.98 in parts and the TV executive assigned to find out how she did it!

RARE TV DRAMA VOL. 27—This volume features two PHILCO TELEVISION PLAYHOUSE broadcasts. First, 'Without Fear or Favor' (1/13/52) a dramatization of the story of famed corrupt politico Boss Tweed starring Murvyn Vye (this is not a typo) and E.G. Marshall and Ernest Borgnine in supporting roles. Then, one of the wildest hours I've seen in a long time; "Segment' (1/27/52) stars Eileen Heckart as a shrewish wife who drives her husband insane!

RARE TV DRAMA VOL. 30—Two fine hours of live drama, Dick Foran stars in this KRAFT TELEVISION THEATRE production of Robert Louis Stevenson's 'Kidnapped' (9/1/54 NBC) with all the yummy Kraft commercials! Then, THE CELANESE THEATRE presents 'Yellowjack' (5/28/52 ABC) a drama of malaria and the Panama Canal.

RARE TV DRAMA VOL. 31—THE DICK POWELL THEATRE presents 'Thunder in a Forgotten Town' (1962 NBC) starring Steve McQueen, Jackie Cooper and Milton Berle and ALCOA PREMIERE presents 'Million Dollar Hospital'(1961 ABC) with William Shatner and Charles Bickford.

RARE TV DRAMA VOL. 31—THE PLAY OF THE WEEK presents THE WORLD OF SHOLOM ALECHIEM (1959)The tales of the Yiddish humorist dramatized by a cast headed by Zero Mostel and Nancy Walker.

RARE TV DRAMA VOL. 32—HALLMARK HALL OF FAME presents Eugene O'Neill's 'Ah, Wilderness!' (4/28/59) starring Lloyd Nolan, Helen Hayes and Betty White.

RARE TV DRAMA VOL. 33—Two 1957 hours of one of the 50's leading live drama series, CLIMAX! Robert Preston, Diana Lynn and Kurt Kasznar star in 'Trail of Terror', then Anne Francis, Skip Holmar, Betty Field, Sidney Blackmer and William Talman star in 'Scream in Silence'.(BR>

RARE TV DRAMA VOL. 34—THEATRE '62 presents a live production of 'Rebecca' starring James Mason, Joan Hackett, Lloyd Bochner and Nina Foch. WESTINGHOUSE STUDIO ONE presents 'Abraham Lincoln' (1952) starring Judith Evelyn, Robert Pasterne and featuring a youngster named James Dean.

RARE TV DRAMA VOL. 35—DUPONT SHOW OF THE MONTH presents 'Billy Budd'(5/25/59) with Don Murray and Roddy MacDowell, DIAGNOSIS: UNKNOWN (7/5/60) A live drama hour starring Patrick O'Neal, Phyllis Newman and Chester Morris. 'A Cask of Radiant Wine' also stars Tom Bosley and Larry Hagman.

RARE TV DRAMA VOL. 36—Two very early live FORD THEATER hours, broadcast live on CBS with original commercials, 'The Trader' and 'On Borrowed Time'.

RARE TV DRAMA VOL. 37—ROBERT MONTGOMERY PRESENTS (1951 NBC) 'The Long Way Home'.

RARE TV DRAMA VOL. 38—A great live two-part live adaptation of LITTLE WOMEN; MEG'S STORY with Mary Sinclair and John Baragrey and JO'S STORY with Nancy Marchant and Kent Smith.

RARE TV DRAMA VOL. 39—ARMSTRONG CIRCLE THEATER—Lots of star power in these three tight half-hour dramas; ' THE MILLSTONE' (1/19/54) with Elizabeth Montgomery and Walter Brooke, 'TIME FOR LOVE' (6/21/55) with John Cassavetes and Gena Rowlands, 'The Bells of Cockaugne' (12/17/53) with James Dean, Gene Lockhart and Tige Andrews.

RARE TV DRAMA VOL. 40—WESTINGHOUSE STUDIO ONE—'THE KILL' (1952) starring Dick Foran, Nina Foch and Grace Kelly. CLIMAX! presents 'THE LOU GEHRIG STORY'(1956) starring Wendell Corey and Jean Hagan!

RARE TV DRAMA VOL. 41—All with the original commercials; ROBIN HOOD (1956), DUPONT THEATER 'Once a Hero' (1956), and two episodes of SCHLITZ PLAYHOUSE 'The Long Shot' (10/9/53) and 'Storm Warnings' (7/10/53).

RARE TV DRAMA VOL. 42—Two more live dramas including original commercials from the Golden Age of TV Drama; GOODYEAR TELEVISION PLAYHOUSE—'The Room' (9/28/52) starring Edmon Ryan, Halla Stoddard, Carmen Matthews and Penny Hays. THE ALCOA HOUR—'No License to Kill' (9/1/57) starring Eddie Albert, Maureen Stapleton and Robert Strauss.

RARE TV DRAMA VOL. 43—WESTINGHOUSE STUDIO ONE (1952) James Dean has a small part in this adaptation of John Drinkwater's 'Abraham Lincoln'. PHILCO TE LEVISION THEATER (8/9/53) Ed Begley has the middle age blues in 'Ernie Barger is 50".

RARE TV DRAMA VOL. 44—Long before she was known as the witch with the twitch, Elizabeth Montgomery was a mainstay of the age of live TV drama. She worked on Studio One, Kraft Television Theatre and many others, but here she is as part of the stock company of her father Robert Montgomery's long-lived Monday night drama series on NBC in two charming programs. "Our Hearts Were Young and Gay" (2/15/54) also starring Sally Kemp and Cliff Robertson and "Home Town" (8/2/54) with Cliff Robertson and Frank Albertson.

RARE TV DRAMA VOL. 45—Elizabeth Montgomery returns in these two productions of the KRAFT TELEVISION THEATRE: "The Last Showdown" (4/11/56) with Edward Arnold, Glenda Farrell and Victor Jory and "The Long Arm" (7/11/56) with John Ericson and Phyllis Love.

THIS MAN DAWSON—This 1959 ZIV-produced series stars Keith Andes as Col. Frank Dawson, a former Marine officer heading a big city police department. This guy is intense, he makes Jack Webb look like a flower child! Four fun episodes!

WILLIAM SHATNER VOL. 1—William Shatner's 1953 live television debut, 'All Summer Long' also starring Raymond Massey, followed by FRED ASTAIRE'S PREMIERE THEATER (1961) 'Million Dollar Hospital' with Shatner as an idealistic young doctor.

WILLIAM SHATNER VOL. 2—We all know that William Shatner is one of Canada's prize imports to America. He shuttled back and forth between the US and Canada in the early days of TV and here's an early live Canadian production from the CBC; GENERAL MOTORS THEATER (4/26/55) presents its production of 'Billy Budd' with Shatner as Billy Budd, supported by Basil Rathbone and Patrick Macnee with Canadian GM commercials to boot!

WILLIAM SHATNER VOL. 3—Another CBC production; CBC FESTIVAL '61 (11/15/60) presents Fritz Weaver and William Shatner in its production of Shakespeare's "Julius Caesar', which will put you in mind of a particularly wordy episode of Star Trek!

YOU ARE THERE—Join Walter Cronkite and the CBS new staff as they cover some of history's greatest stories! 'The Fall of the Tweed Ring', 'The Tragedy of John Milton', The Birth of Modern Boxing', 'The Great Diamond Fraud' and 'The Gunfight at the OK Corral'!



PLEASE CHECK THE NEW VOLUMES! LISTINGS FOR NEW VOLUMES OF RARE TV DRAMAS!